Eyebrow Shaping Naomi Martinez Studio
Bridal Makeup & Bridal Hair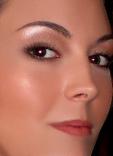 Signature Eyebrow Design: $40-$45
Brow Maintenance: $20-$25

Naomi and her staff are known for their artistic talent in eyebrow shaping. Women visit them from all over New England just for them to look at their face to determine the shape and style that will most enhance their face. They shape every eyebrow by hand tweezing. Many other places just seem to "wax off" and rip off brows and skin. Precise eyebrow shaping must be done by hand. Come and see how great your brows will look.

The eyebrows 'frame' the face and influence the total symmetry of the face. Discovering the best shape for your eyebrows- without sacrificing their natural appearance- is what you want to accomplish when shaping your brows. Pencil thin or overly bushy eyebrows are dated looks that can be distracting rather than enhancing.